5. Maroczy Bind
Hello ChessMood Family! Welcome to the video course "Maroczy Bind" that we've created with GM Melkumyan who is a big expert of this defense.
About This Course
It's very useful for you to learn Maroczy bind structure as it occurs from different openings: after English opening, from Sicilian Accelerated Dragon line and Benko Gambit which we teach you in our courses.
In this video course, you'll learn main ideas, strategies, and plans of Maroczy bind structure for both sides. Also, we have commented most typical games to help you to get insights of this structure.
Below you can see some of the diagrams of this video course.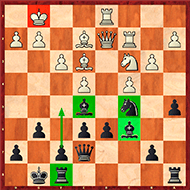 After you finish the course, you'll not only have a new opening in your repertoire but will also have a better understanding of space advantage and disadvantage, which is very important for improving your positional chess skills.
We are so excited to share with you the whole knowledge you need to know for starting practicing and outplaying your opponents in Maroczy Bind.
Let's go, the journey begins.
About Coaches
| | |
| --- | --- |
| Name | GM Avetik Grigoryan |
| Title | GrandMaster |
| Rating | 2568 |
In 2010 Avetik won Armenian National Championship and joined their national team.
After 2 years he stopped playing chess professionally and started coaching career.
Now he is the coach and the second of more than 10 GMs, co-author of video courses "Right Mood Openings", and the author of the book "Right Mood - Right Move" which will be published soon.
In 2018 he founded ChessMood.
| | |
| --- | --- |
| Name | GM Hrant Melkumyan |
| Title | GrandMaster |
| Rating | 2660 |
European Blitz Chess Champion 2011, member of Armenian Chess National team, became Grandmaster at the age of 19
What do you think about this course?
REVIEWS
David Hakhinyan
1 year ago
Vahe Suqiasyan
1 year ago
WIM_Siranush Ghukasyan
1 year ago
Mateo Jackson
11 months ago
Artyom Manukyan
11 months ago