9. Attack Against Caro-Kann
ChessMood Family, Welcome to the video course Attack Against Caro-Kann
About This Course
Before preparing this video course, I asked many Grandmasters, who are experts of the Caro Kann defense, what is the most unpleasant line for them, when they play Caro Kann- their answers were the exchange variation.
Then I asked "What is the easiest line to learn for white against Caro Kann defense?" The answer was the same- The exchange variation.
So, without losing time, with our team, we started to explore the exchange line deeper and found out, that, nowadays, in theory, Black gets problems against this line.
Below, you can see some of diagrams of this video course.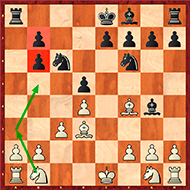 In this course, you'll learn the most essential ideas and plans of this line, and the most important variations that you should know, for crushing the Caro Kann.
So make your tea, fasten your seatbelt - we go!
About Coaches
| | |
| --- | --- |
| Name | GM Avetik Grigoryan |
| Title | GrandMaster |
| Rating | 2568 |
In 2010 Avetik won Armenian National Championship and joined their national team.
After 2 years he stopped playing chess professionally and started coaching career.
Now he is the coach and the second of more than 10 GMs, co-author of video courses "Right Mood Openings", and the author of the book "Right Mood - Right Move" which will be published soon.
In 2018 he founded ChessMood.
| | |
| --- | --- |
| Name | GM Samvel Ter-Sahakyan |
| Title | GrandMaster |
| Rating | 2593 |
European U-18 Champion 2009, World U-18 champion 2011, Karpos Open Winner 2017, became Grandmaster at the age of 15
What do you think about this course?
REVIEWS
Jora Aleqyan
10 months ago
Great course GM!
sero gharakhanyan
3 weeks ago